This is part 2 of a description of a road trip I took back in March 2009.   I was living in Michigan and purchased a 1988 560SEC in the LA area.   I had to be out there for work so the plan was to drive the car around for the week to get familiar with it and then drive it back over the weekend.   Part 1 covers the purchase,  initial impressions and preparation for my 560SEC roadtrip.
At about 3pm on friday afternoon I set out on my 560SEC roadtrip.   As I mentioned in the last meeting, I chose the southerly route to avoid some bad weather.    A 560SEC is a great roadtrip car, especially for 35 hours of driving over a weekend.   The car is smooth, fast and comfortable.   On the open road it is efficient enough to not require constant fueling.    I found that the range of the fuel tank was pretty aligned to my need to stop for bathroom breaks!
The W126 is superior to many modern cars for a long roadtrip.  Modern cars with their big wheels, low profile tyres and hard sports seats are not nearly as optimised for long distance cruising as the SEC with more comfortable seats, regular tyres and the ability to smooth out some of the bumps on the road.    While I didn't need it on this trip, it also has a full size spare tyre instead of a space saver or repair kit.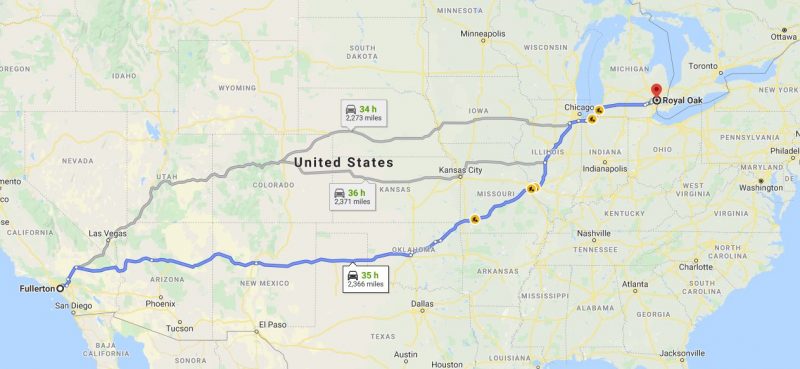 The map above shows the route I planned to take.   The plan for day 1 was to get to Arizona before stopping for the night.   I managed to get to Holbrook AZ, which is about 550 miles.   Getting a good mileage under my belt on the first afternoon was important to make the trip viable in a single weekend.    Other than getting out of LA, I did not have any major delays on the first night.
I stayed in a fairly standard roadsize motel – the "Economy Inn".    It was late at night and I chose something that looked halfway decent off the interstate.    Turns out I made a mistake as the next morning I noticed 100m up the road there was a "Wigwam Motel"   The Wigwam models were built in the 30s and 40s along route 66 and you get to sleep in an individual cabin that is shaped like a Tipi.   It would have been cool to stay in this piece of American history.
Day two is when I really broke the back of my 560SEC roadtrip, covering over 1,000 miles in the day.   I stopped for lunch in Amarillo Texas after passing the pink highways in Albuquerque.   I was expecting Amarillo to have more of a Texas/Frontier town feel about it, but it felt like any other mid-size american city other than the portion sizes at my lunch stop!
Being disciplined with what I ate and drank was how I was able to cover these distances safely.  No caffeine and no sugary foods.   I drank bottled water and snacked on things like nuts along the way.   Caffeine might keep you awake to a point but the crash will come later.
Along the way, I had a slight problem in the Texas Panhandle.  There was a wreck or breakdown on the interstate that stopped traffic for a while.   It was really hot and I was stuck in the red light of the fuel tank at this time.   In the end a few of us had to drive down a grassy embankment onto a service road to get off the highway and get around the problem.   The 560SEC was able to do this just as easily as the F150s it was surrounded by.
I made good time through Oklahoma, the traffic moved quickly and the roads were good.   I ended up staying somewhere in central Missouri after covering around 1,100 miles.     Again, I stayed in a budget motel along the way.    The 560SEC continued to perform well – no burning of oil or any problems to report.    The car was getting pretty dirty, but holding up well.  The drug dealer wheels were still terrible.
To be concluded in part 3.