In April 1982 Mercedes-Benz was pretty much king of the hill when it came to mainstream luxury cars.   Rolls Royce was in a league of its own, and Jaguar was at its quality nadir.   BMW were just releasing the E30 which would propel them to a leadership position in the small, luxury market.  They still could not touch Mercedes-Benz in the mid or upper tiers.
As a result, Mercedes were able to charge premium prices for their offerings.    This was before the introduction of fringe benefits tax in Australia, so many of these cars were purchased as company cars with big tax benefits.
To put the prices below into perspective, at the same time AV Jennings were advertising a new three bedroom home that could be built on your block for only $29,950.   This was about the same price as a 230E before sales tax.
The 1982 range was quite small given how successful Mercedes-Benz were at the time.   The highly successful 230E had been able to effectively replace the 230, 250 and 240D in the line up.   They were also only offering three S class models.   I suspect there was a bit of complacency in this line up.  The grey market was thriving with private imports of the 500SE/SEL and SL models happening in big numbers during this time.
It wouldn't be long before the lineup would be much expanded with the successful W201 190 series, and the expanded range of the W124 and second generation W126.   In the short term, the 380SE would also soon join the range.    For April 1982 though, you could only get the the V8 in the long wheelbase or the SL.   In addition, there was no manual transmission at all in the line up.   It would take the W201 to add this back.
The next 9-10 years would see significant price inflation.   Compare this to the 1991 price list.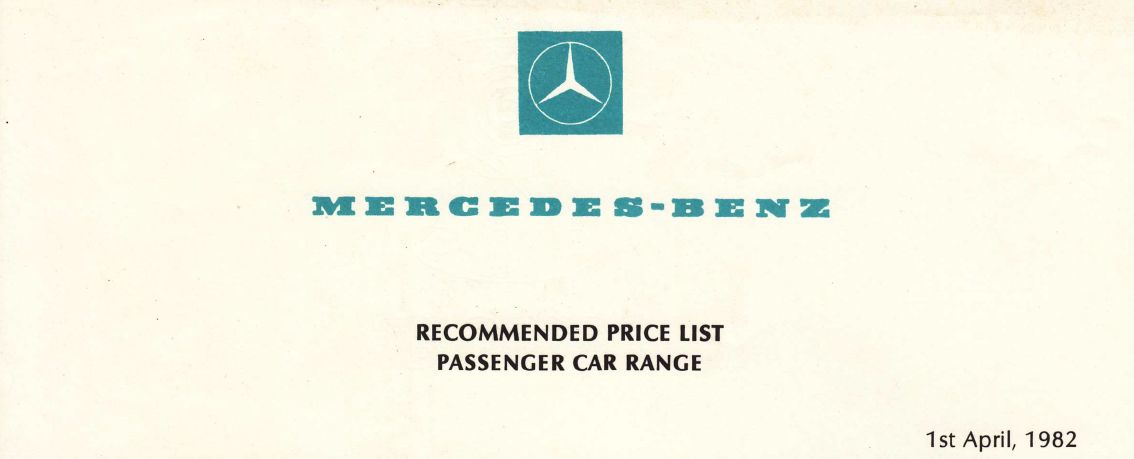 Model
Transmission
Type
List Price
Sales Tax
Rec Retail price
W123
www.classicjalopy.com
230E
Auto
Saloon
$29,561.40
$3,821.60
$33,383.00
300D
Auto
Saloon
$31,265.90
$4,042.10
$35,307.00
280E
Auto
Saloon
$34,271.52
$4,431.48
$38,703.00
300TD
Auto
Wagon 5 Seat
$35,462.35
$4,585.65
$40,048.00
Wagon 7 Seat
$37,287.10
$4,821.90
$42,109.00
280TE
Auto
Wagon 5 Seat
$38,147.62
$4,933.38
$43,081.00
Wagon 7 Seat
$39,972.37
$5,169.63
$45,142.00
280CE
Auto
Coupe
$39,332.15
$5,086.85
$44,419.00
W126
www.classicjalopy.com
280SE
Auto
Saloon
$46,170.75
$5,971.25
$52,142.00
380SEL
Auto
Saloon
$54,981.75
$7,112.25
$62,094.00
380SEC
Auto
Coupe
$68,539.97
$8,868.03
$77,408.00
R107
www.classicjalopy.com
380SL
Auto
Coupe/Conv.
$53,076.53
$6,866.47
$59,943.00