Last year I had the exhaust replaced on my 560SEL.   At the time the exhaust was rubbing on the drive shaft and had a few holes.   I had a custom stainless system built that I am really happy with.    This year I saved up to do the same thing on the 560SEC.   While the SEC's exhaust wasn't rubbing, it was starting to get a few rust holes.  It was also sometimes scraping on the ground even after replacing some hangers.  In addition, somebody had previously removed the back box and welded in an oval tip I didn't think suited the car.   It's been bugging me since I bought the car back in 2018.

As the SEC is the 10:1 compression ECE model, it has a different exhaust system as standard than my 560SEL.    The exhaust manifolds are two piece on each bank and go through longer headers. This is illustrated in the picture above that can be compared to picture in the 560SEL article.    This is often referred to as the 'tri-y' system.    Based on this, I was looking for a 560SEC performance exhaust.
As can be seen in the picture below, my new exhaust retains this feature. It is now in stainless steel 2″ pipe. I've saved the original pieces to remain with the car too.
The system continues as dual 2″ pipes to a single centre muffler that replaces the factory kidney mufflers.    I've not seen stats, but the kidney mufflers seem very restrictive.    My straight through centre muffler should work much better.    The rear muffler is also much smaller than the factory rear box.   I was looking for something with a bit more presence, but without droning at speed or being obnoxious.
In having this system built, the other thing I was basing this off was the contemporary AMG systems.   The main difference is the AMG systems came straight out the back.   I didn't want to modify my rear bumper or have the exhaust hang low, so I used the factory cut out.    You can see the AMG system in the centre and the tips on the bottom left.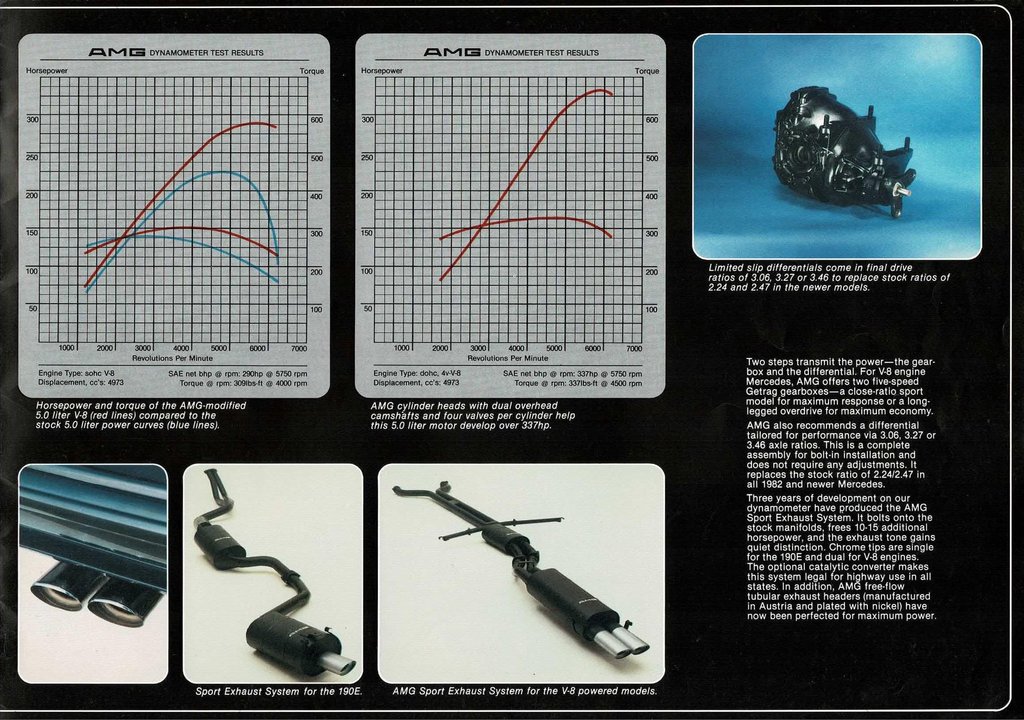 I had actually bought some AMG style tips, but due to the curvature required in the exhaust, I had these tips made up.   I think its a pretty good compromise to make sure the exhaust doesn't impact any curbs.  My 560SEC performance exhaust sounds great and it should last a long time