I've lost count of how many marques I've owned, but I've never owned a Ford. My father did though, and it was the proud replacement for his 14-year-old Volkswagen 1600 Notchback, a rare car now, but also assembled in Australia. In 1985 my father purchased a brand new XF Fairmont from Cam Dawson Ford in Geelong. He optioned power steering, air conditioning and alloy wheels. It wasn't overall sophisticated with the old 4.1 inline six and 3-speed auto, but it got the job done and reliability wise, it never had a problem.
Which brings me to our latest acquisition, one that I thought I would never own, a 2007 Ford Falcon BF Futura MK2 wagon in Octane Metallic (an orange red) on dedicated LPG. Ford called it the E-gas. A number of options were ticked at sale, heavy duty suspension, tow pack, 16" alloy wheels and roof racks. It came to us in unexpected and very sad circumstances when a dear friend passed away and left it to us. The timing is somewhat perfect, as we sold our last large car in October 2022, a 2007 Lexus LS460 called Larry and there was a gap in our fleet.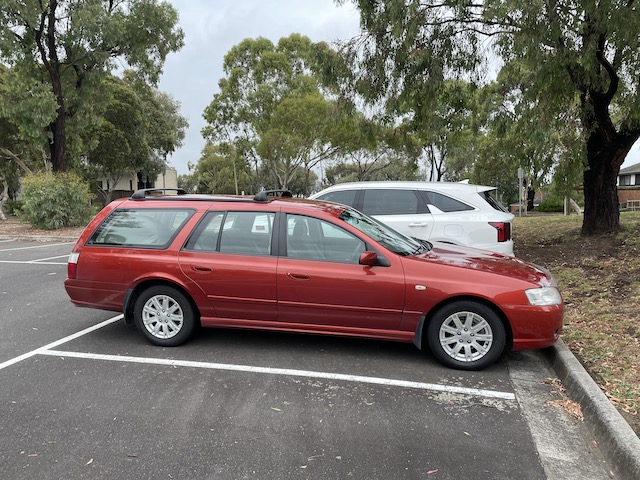 Ford focused on refining the successful BA Falcon (winner of Wheels Car of the Year in 2002), with the release of the BF in August 2005. It's no wonder Ford announced the MK2 update in August 2006, given the success of the VE Commodore. The big changes announced were a revised front end, availability of the ZF 6 speed auto and Dynamic Stability Control (DSC) on selected models. Engineers also reworked the Barra 4.0L Barra inline six, increasing power to 190KW, while improving its refinement.
Despite the popularity of the revised BF Falcon sedan, wagon sales had been on the decline since the release of the Territory in 2004. In 2008 Ford sold 1,842 BF MK2 wagons, as opposed to 12,791 of the SY Territory, so it's no surprise Ford chose not to further develop the wagon any further. Ford went on to release the MK3 wagon and included DSC (petrol wagon only) but the excellent ZF 6 speed auto was unavailable as an option. The BF wagon remained largely unchanged sheet metal wise since the release of the AU wagon (with the exception of the front end) which is a good thing, as the design looks rather balanced and pleasing to the eye.
The BF wagons were mainly sold to fleets given the huge cargo area, which offered 1254 litres with the rear seats in place and folded down, it expanded to 2584 litres. It's no surprise then that many of the BF wagons are white. Just looking at Carsales today, 12 out of the 19 BF MK2 and MK3 wagons are white.
For the E-gas wagon a 116-litre gas tank replaced the petrol tank, relocating the spare upright inside the cargo area. Power was reduced from 190KW to 156KW, while torque was slightly reduced from 383Nm to 370Nm. The LPG system is quite conventional, turning liquefied gas into vapor before feeding it into the engine via a venturi into the throttle body.
The Futura's specifications include an electric driver's seat, power windows, central locking with remote, cruise control, a single CD and cup holders! What the Futura misses in specs it makes up for when you drive it. As a package it nails the brief with the smooth and tractable 4.0L Barra inline six, and its variable valve timing on intake and exhaust. Even with the reduced power output of the E-gas version, there always seems to be sufficient torque, with maximum provided at 2750 rpm. Ride quality is a highlight, dealing with Victoria's worst roads without a bother. Noise vibration harshness (NVH) is kept to a minimum, I assume in part due to the triple rubber sealed doors.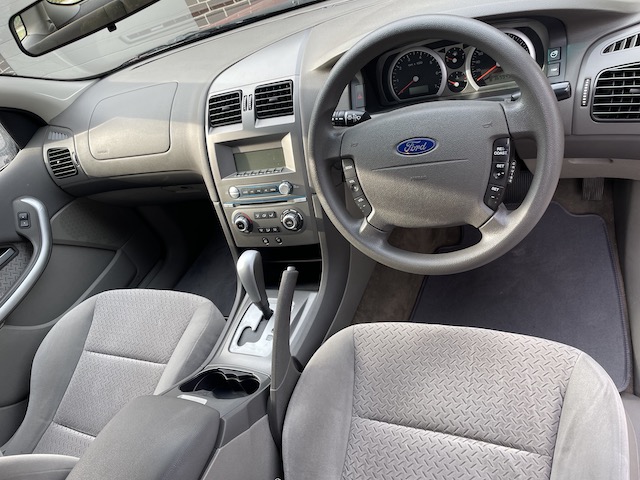 The seats suit my larger frame and are one of the most comfortable seats I've experienced. Naomi will testify to this, as she struggles to get comfortable in many cars, given her back problems. All the dashboard controls are quite basic with heating, ventilation, and audio all close at hand and very easy to use. In some ways I think they're far simpler and more intuitive to use than a modern infotainment display.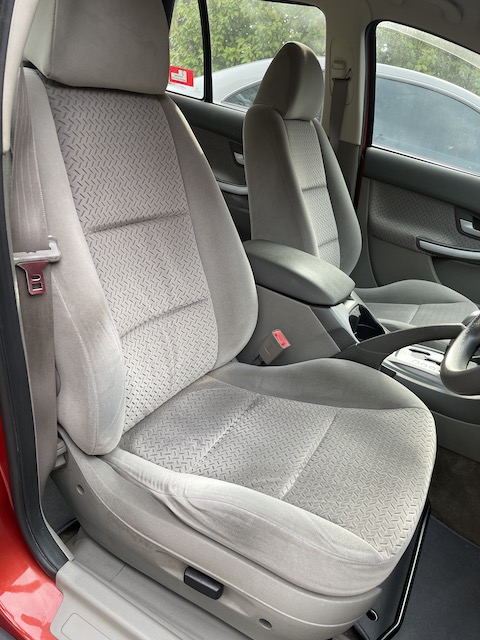 What's it like living with a dedicated LPG vehicle? Well in Victoria it's quite easy as there's lots of availability with most BP, Ampol, United and 7-Eleven service stations stocking it. However, outside of Victoria it does get challenging and requires careful planning. Fortunately, this is where an app like Petrol Spy comes in handy, as it details LPG available via postcode or suburb. Unique to the E-Gas version, even when new, the engine reveals a slight hesitation when turning over, but once started you wouldn't know the difference. It's also interesting to note that at the time, the E-gas version met Euro-III standards.
I haven't really kept my eye on fuel economy, but Ford's published figures suggest 12L/100 on the highway and 18L/100 around town, with a combined average of 15.1L/100. This is in line with my trip computer's average fuel consumption of 15L/100. LPG pricing varies, but since I've had the car, prices I've paid range from $0.83 in Melbourne to $1.07 when I filled up in Holbrook NSW. Using Melbourne based pricing, it costs under $100 to fill up the tank, with a range in town of between 600-700km.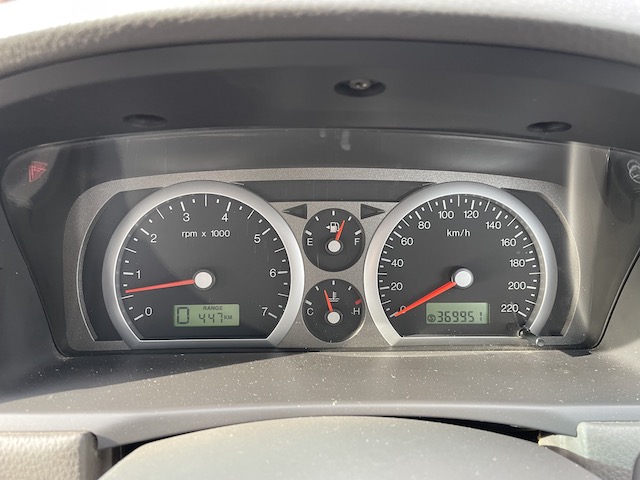 Some people have asked "what mods are you going to do?". Given there's approximately 370K on the odometer, I'm keeping my spend to a minimum. I ordered a new set of car mats from Fit My Car, which cost $107. I also ordered and installed a $100 Bluetooth kit that connects into the factory loom and runs on the AUX input. Not bad for a ten minute install.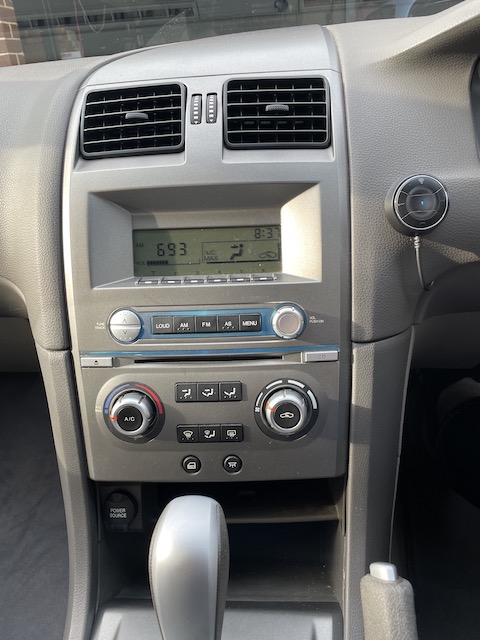 Do I have any complaints about the car? Very little in fact! The cruise control and audio buttons on the steering wheel don't light up at night and there's no indication on the cluster if cruise control is on or not. The all-grey interior looks all a bit spartan, but the interior trim has worn very well. I can't see a single crack or mark in any of the plastics despite the high mileage. Surprisingly there are no rattles either, I guess that's testament to the Ford build quality.
Why do I like it so much? It's a combination of the package, comfort, ride quality and what it costs to run on LPG. I feel less conspicuous driving it as opposed to driving one of our classics or our i30N. I do feel sad that Australian car manufacturing is no more, as both Holden and Ford built cars for our unique Australian conditions, something that's definitely lacking in global market cars. The final VE/VF Commodore and BF/FG Falcon highlighted our local talent and capability. It's a shame it took me until now to work how good the BF Falcon was.
Once our son Jack gets his licence, we will pass the car over to him. I was supposed to be looking for a wagon for him last year but found a beautiful SLK instead! All of our cars are family members and endowed with a name, so Jack has named him Lister (of Smeg) for those who know their Red Dwarf. Just like the real Lister, this one took ages to be released from Stasis, after endless Estate paperwork. Jack's main care for his wheels is whether he can have Apple CarPlay. What a delight it was to discover a home-grown market for Australian cars to retro fit Apple CarPlay, a bigger screen, and an optional reverse camera! With a choice of several suppliers to replace the current centre fascia (and upgrade the head unit), Lister, the BF Falcon will soon be future proofed.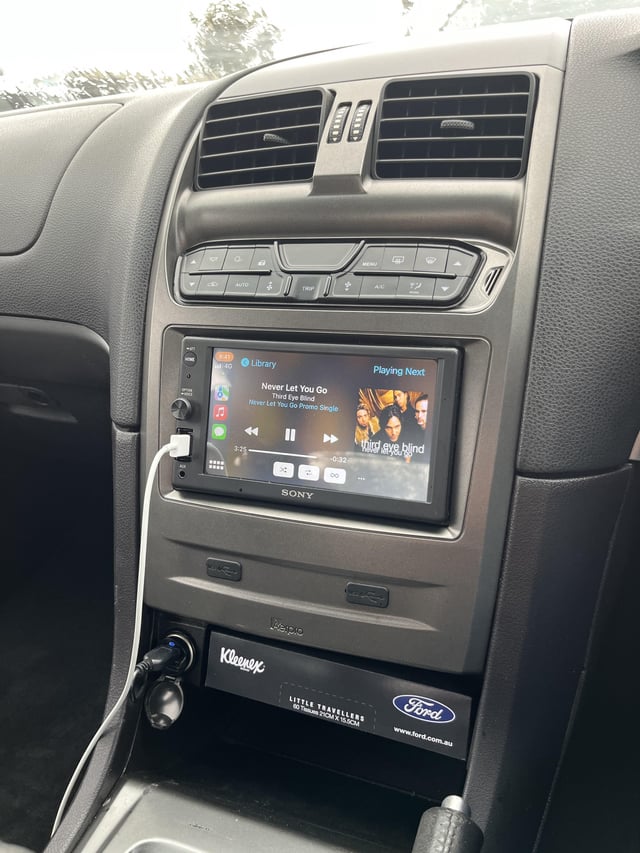 Author:  Nick Gruzevskis is a contributor to classicjalopy.com, and is the custodian of a great collection of classic and modern cars.   Click here to read about his fabulous 450SE and recent purchase of a SLK230K.