It was back in April 2018 when I got a call from Greg at Gullwing Motors, telling me to come in as he had a car that I might be interested in. Oooh, this sounded exciting, what was it?! I couldn't get up there fast enough to see the red W116 450SE which Greg had just towed out of a customer's garage, together with a W123 300D, as part trade ins for a sale of a W211 E500. Growing up in the 70s, the W116 was the S-Class of my youth and in the 80s a friend's father had a 6.9, but they seemed too far out of reach to be on my radar.
Fast forward to 2011 and I still hadn't ever owned a Mercedes, but had owned two BMWs, a E34 88 535i and a E39 530i M-Sport. This all changed when my father passed away and I inherited his W126 88 300SE (Oskar), which led to two additional W126 purchases, a 91 420SE (The Gangster) and a 85 280SE (Max). You could say I had the W126 bug! But as for a W116, it was still under my radar. Maybe, this was due to how good the W126 was and how much I respected Bruno Sacco's design.
The 450SE had been garaged for many years and the service history indicated it was last serviced in 2012. I had read a few articles in Around the Benz to avoid laid up cars, but in these moments, you don't act rationally. All I could think about was the rare colour combination of brilliant red metallic and anthracite velour interior, highly optioned with a sunroof, Bundt wheels and headlight wipers. Rust was my biggest concern, so got my neighbour (who runs a body shop) to come up and have a look. A brief inspection confirmed rust was confined to workable areas, this led to Naomi's approval to purchase.
In hindsight the mechanics were the least of my concerns. Stripping back the body deadener, the more I removed, the more rust that was exposed. Rust was identified in the wheel arches, driver's floor, and boot floor, but surprisingly there was no rust in the firewall, bottom of doors or bonnet. In all we spent far more time (and money!) repairing rust than I ever envisaged, totalling 160 hours.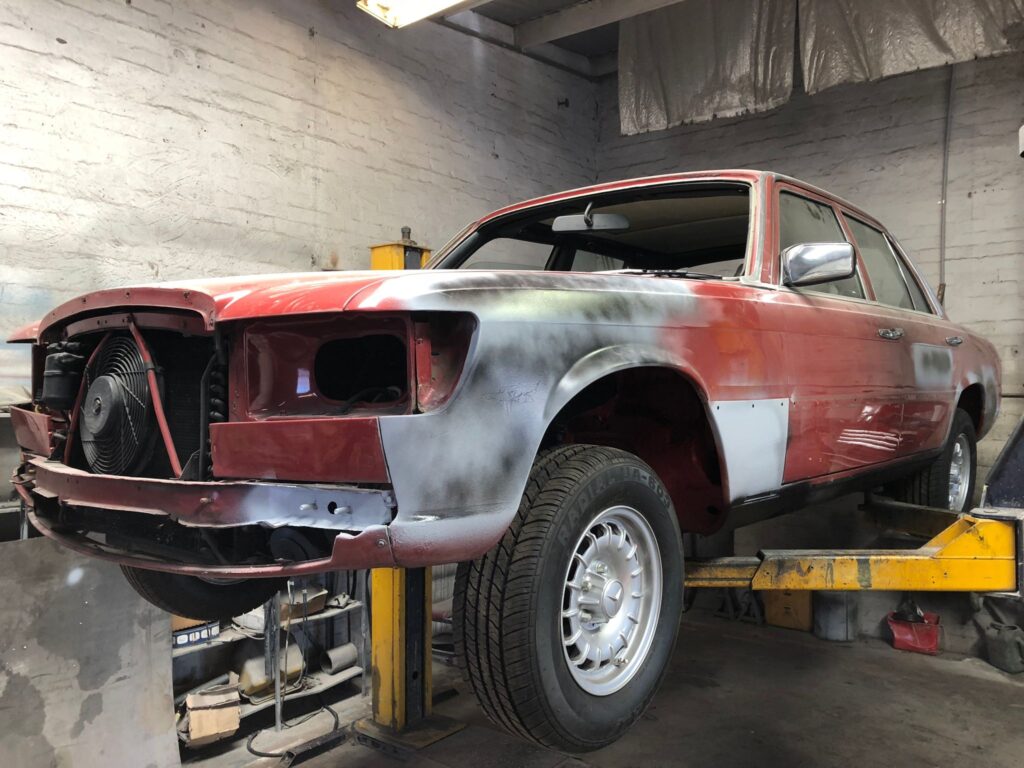 In July 2019 I finally got the car on Club plates after so much more work than I had envisaged and turned my attention to naming the car, an important step in welcoming a new car to the family. As she is a pinky red colour, she was obviously a girl, and what better German name than Claudia.  At the same time, some further history on the car came to light. Claudia was privately imported from the UK in 1986 by a chap who lived in Canterbury and at a minimum has had an additional two owners, one of them being an MBCV member who won Concours with a 300SL Gullwing. As she was UK delivered, she's endowed with the 220HP M117 4.5 K-Jet engine (without the emissions constraints of Australian delivered examples).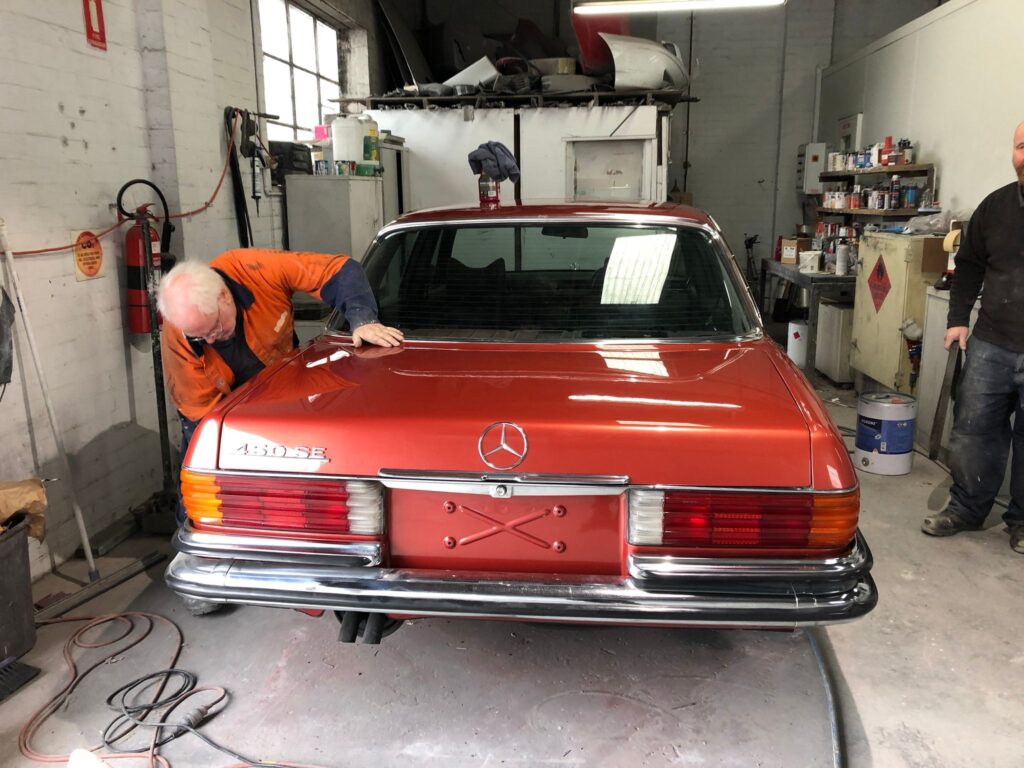 Driving Claudia reveals plenty of character, from the rich V8 burble through her original exhaust, while the weight plants her firmly on the highway, refusing to be moved by gusts of wind. The rich torque provides ample acceleration perfectly matched to the three-speed automatic, enabling her to keep up with modern day traffic. The velour interior is supremely comfortable, providing warmth in winter, while in summer you don't have the problem of sticking to the seats.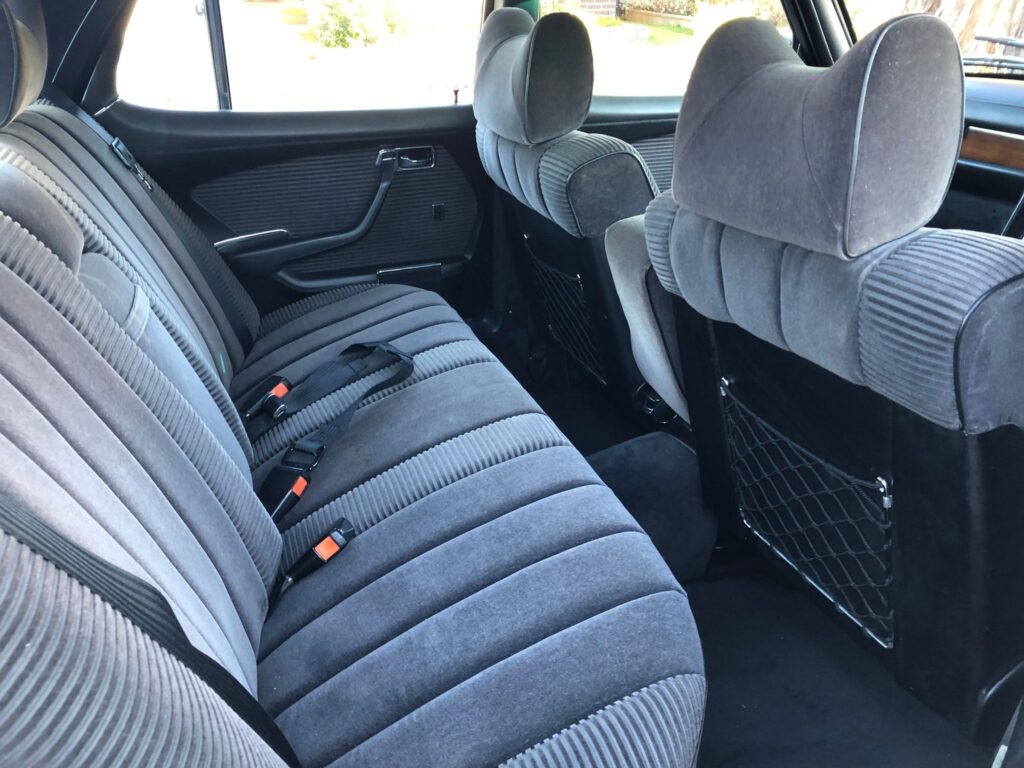 Was it all worthwhile? Rationally you'd have to say no!! It would have been far cheaper to buy a better example which would have also been Australian delivered, but once you start a project like this, there is no turning back. After getting Claudia on the road, the maintenance kept on coming with jobs like the timing chain, engine mounts, injectors, radiator refurb and even the gearbox needed to come out as the large o-ring broke in half. More money! Fortunately, over the last two years, the maintenance has been contained to fluids.
What do I think now? Well, I've ended up with a much-loved new member of the family who gets regular use, is very comfortable and enjoyable to drive and gets driven rain, hail, or shine. The pinnacle of my ownership was displaying Claudia at Mercedes-Benz Ringwood with the latest W223 S450. The feedback I received from the Dealership and MBCV members made the whole project worthwhile.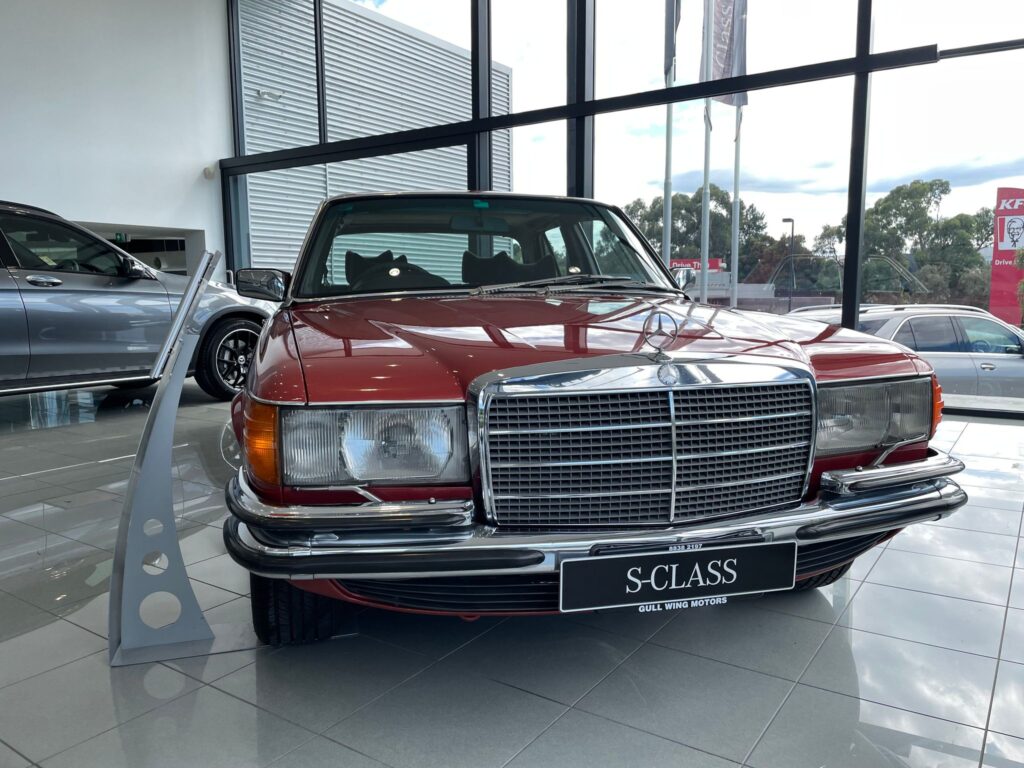 Author:  Nick Gruzevskis is a member of the Mercedes-Benz Club (Victoria) and the owner of this 1979 450SE, a 2005 CLK320 and a SLK230