The club guys were right about the bug. You know, the one you catch after buying your first classic Mercedes. It's not that the W108 3.5 wasn't enough, but after a couple of years you feel an irrational (yet somewhat justified) urge to have a Mercedes for every occasion. Rescuing all of these beautifully engineered machines from an untimely demise is a noble cause, some might argue. The passion was certainly there but in the end, you need a number of factors to align: funds, garage space and spousal approval. I had only one of those, the rest will have to align later.
I wanted a coupe I could drive regularly which had rear seats for our two toddlers, and a 450SLC seemed like the obvious choice. However, I struggled to find a C107 that I liked which didn't have an unrealistic price tag. It's not that the SLC prices were astronomical in 2019, but obviously the asking price should reflect the condition of the vehicle beyond a fancy respray. The C107 can have some issues which are skin deep. What might appear like an excellent exterior could have a project car lurking beneath. Perhaps I made the mistake of using Colin T's beautiful white 450SLC as reference, and ultimately nothing I inspected came close to the condition of this car.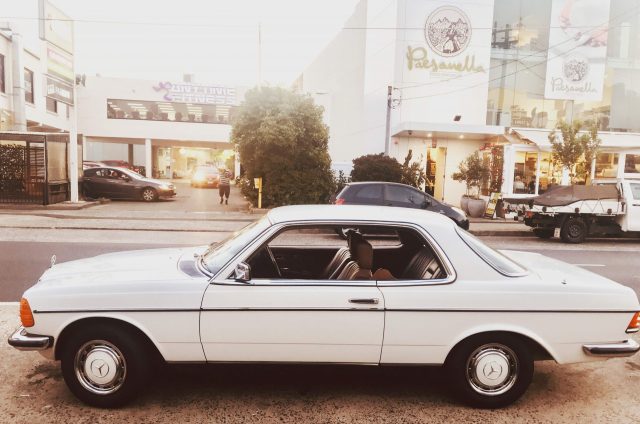 At this point, I wasn't searching for a C123, but widening the Gumtree classifieds search slightly came up with a white '78 280CE in Canberra. The W123 was one of the most successful Mercedes-Benz models ever, with over 2.7 million variants manufactured between 1975 and 1986. They were known for their unrivaled reliability and high mileage capability – which is a good thing, since this '78 280CE for sale had over 430,000km on the clock! If you were buying anything made after 1990, perhaps this high mileage would be a deterrent. But this is a 123 we're talking about here, and the 2.8(ish)L M110 twin overhead cam motor is known to be bulletproof. In any case the price was ridiculously low, and it even had 11 months registration left. A convincing argument emerged around driving this CE for a year, and if it dies after 11 months then at least we got to experience what a 123 was all about. My wife agreed, so that box was ticked and I arranged a bus ride to the ACT after an agreed conditional price with the owner.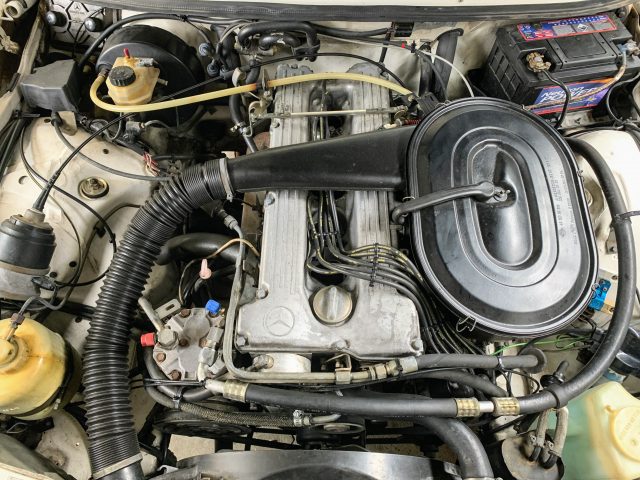 Everyone has a set of non-negotiable conditions when buying a car, and some of these may differ from person to person. Perhaps an Australian delivered car is an important condition for some, or sub-200K mileage for another. For me, a good service history, an excellent interior and minimal rust are very important – the rest can be fixed and restored with time. During my brief inspection of the vehicle, I was blown away by the condition of the interior. It even had the original factory floor mats, which were in excellent condition. The dashboard was virtually crack free, and the burlwood highlights (featuring on the first series C123) were also excellent. It drove ok, but felt a bit soft in the rear (what I later discovered was Self Leveling Suspension or SLS). Overall mechanically it appeared to be good and frankly, the price didn't justify a higher level of mechanical scrutiny. I was only going to drive it for year you see, until it dies or I find an SLC, whichever came first. With a straight body and excellent chrome work, it was obvious that this little Australian delivered coupe has been well looked after. Other than some minor rust in the bottom inside of the front doors, paintwork "patina" and some suspension squeaks, it appeared to be a good car. We did the deal and I drove her back on the 270km trek home. Perhaps that's when the love story began. I just couldn't believe that a high mileage car from 1978 could be so smooth, quiet and capable on the freeway. I love my W108 but the refinement of this little coupe is a generation ahead, which it actually is.

Out of the 2.7 million 123s produced, less than 100,000 were coupes, and a much smaller number were manufactured in RHD. Not a unicorn, but not available in abundance either. The more I read about the C123, the more I realise how sought after these were back in the day. The price tag in 1978 was AU$40,700 which was equivalent to a Jaguar XJ-S V12. Despite the exorbitant premium over the sedans, new 280CEs were fetching even higher prices overseas on the black market because they were so hard to get.
Other than a missing sunroof, my '78 280CE coupe seems to have everything else. Power windows front and rear, power steering, disc brakes, air conditioning, cruise control and SLS – as featured in other early W123 delivered in Australia, perhaps to justify the hefty price tag at the time.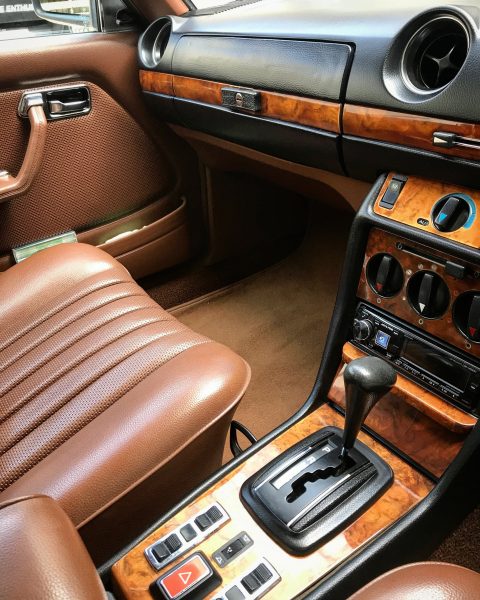 In the first few weeks, the tires brakes and suspension squeaks were sorted out and the AC was re-gassed. Later on, we replaced the fuel injectors and some minor electrical components. Changing all the engine and gearbox mounts made a huge difference to noise and vibration and totally transformed the car. The hood liner had turned to powder, and it was also replaced – we now have a clean engine bay which was free from hood liner dust. A fun "C19 lockdown" project was fixing the vacuum central locking system using some spare actuator diaphragms I had. Recently, I had the top of the rear seat (which was sun damaged) reupholstered in original MBtex. The colour being a relatively rare medium brown or "Tobacco" as per the MB colour chart. Paint wise, it turns out that a good cut and polish can do wonders. It's now a comfy, reliable and pretty pillarless cruiser. It also seems to put the toddlers to sleep pretty quickly (thank you smooth riding SLS).
In the past year, I've added over 7,000km of reliable commuting on the clock. The original engine is still going strong and the transmission shifts smoothly and quietly. At the time this article was written, there was 438,755km on the odometer – truly impressive.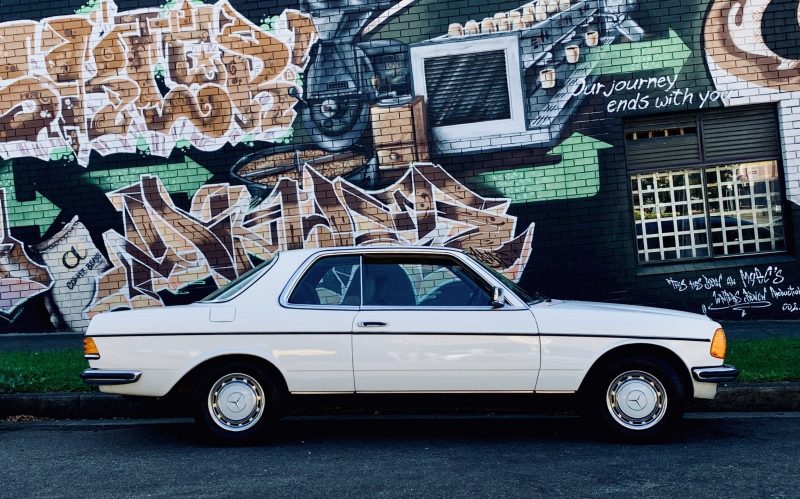 Recent enthusiast interest in the 280CE has shifted the prices upwards. It's nice to know, but it really doesn't matter. As you've probably guessed by now, I'm not getting rid of this pretty coupe any time soon. While I'm a bit precious about the W108 5-digit odometer ticking over to zero, I'm compelled to hit the 500,000km milestone in the CE. At least I can get to mount that mileage badge I bought from eBay on the front grill.
Author: John Tawadros.   John is a member of the Mercedes-Benz Club of NSW and the proud owner of a 1972 280SE 3.5 and now a 1978 280CE.   You can follow his adventures with both of these cars at his Instagram feed Mrfrotop.