Last year, I went on a 4,000km road trip with some friends from the Mercedes-Benz club to the National Rally in Adelaide.   We all took classics, and we took the scenic route there and back.   In may ways, the trip there and back was better than the event.
For 2023, while there was no National Rally, we were keen to do another.    We picked the Mercedes-Benz Club of Victoria's annual concours event.   I've wanted to go to this for years, as I had heard the standard of the cars at this show is very good.    In addition, at a S124 tech day earlier this year, another group was thinking of going down to Melbourne to do another tech day.   We decided to join the two groups and attend both events.
To make it manageable, we put a cap of 10 on our group, and started planning.    The distance to Melbourne is shorter than Adelaide, so it will mean that we need to do less driving per day.
I'm taking my 1987 560SEC.   I've been doing work to get it ready for the drive including having the transmission rebuilt, replacing the drag link and upgrading the front and rear speakers.  This time I will not be the oldest car on the trip.   There are four W108's coming along – three 280SE 3.5s and a 280S manual.   I had considered bringing my 250SE, but it still has a few things that require sorting out before I would take it on such a long trip.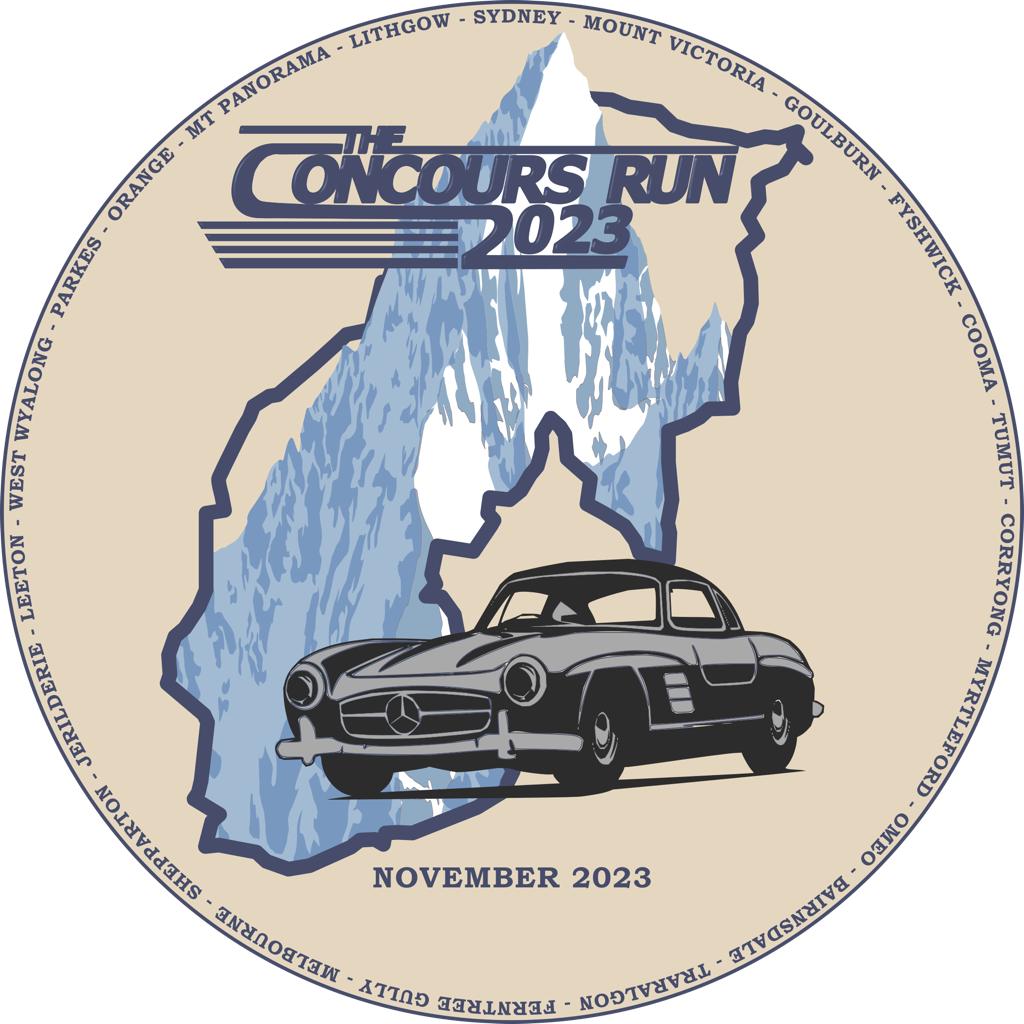 As with last year, we have a trip logo and will have magnets for the side of our cars.   One of our group made this really cool image of our route for the logo.    Also based on our experience last year, we will have more powerful walkie talkies.   We purchased the Quansheng UV K5 from Ali Express for our group.
We're going to have a great convoy of cars for our group.    We'll have the four W108s already listed above, plus two C126s, a C107, a C124 and then either one or two S124s.
Our route was selected to avoid motorways wherever possible.   Motorway travel is very boring and the whole point of this trip is to enjoy some good roads and see the country in classic cars.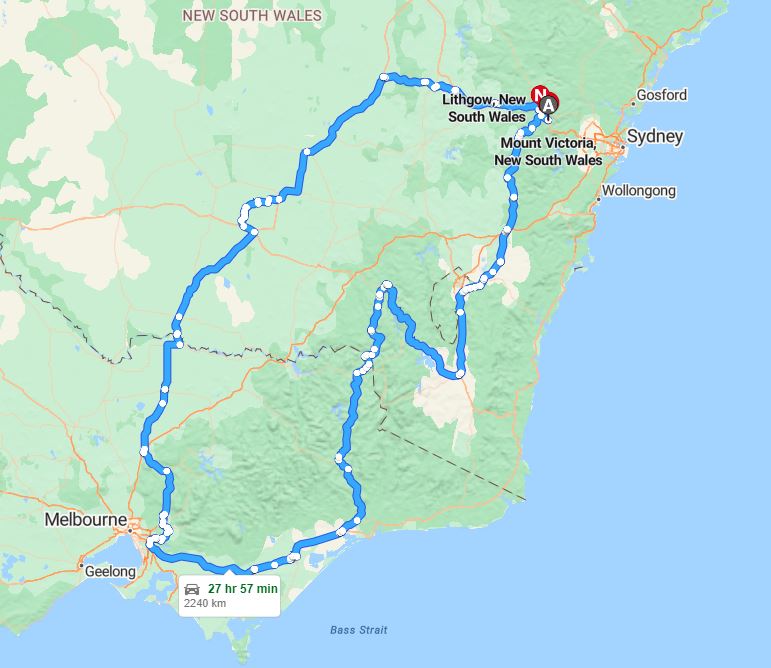 Day 0 – Sydney to Mt Victoria
Our official route starts at 6:30AM the next morning at Mt Victoria.   Since most of our group live a fair distance from Mt Victoria, most of us will stay at a pub overnight.    We will each make our own way up to the pub.
Day 1 – Mt Victoria to Tumut
Our morning will take the excellent road between Oberon and Goulburn.   I've done this road a couple of times now and its one of the best driving roads in NSW.   There is very little traffic and its a great mix of twisty sections, sweeping bends and straights.
After a short break in Goulburn, we'll head to Fyshwick via Tarago and a stop at MB Spares and lunch nearby.    After lunch we'll drive south to Cooma, before heading up towards Tumut via the Alpine way.   Tumut will be our stop for the night.    Total driving for Day 1 will be 585km.
Day 2 – Tumut to Traralgon
Day two will take us through the high country roads from Tumut to Bairnsdale.   For much of the day we are on the scenic B500 Great Alpine road.   This is supposed to be a great driving road with some nice places to stop along the way.
Our final leg will take is into Traralgon, our stop for the night.    We will have covered 524km.
Day 3 – MBCV Tech Day
The main purpose of Day 3 is the tech day with MBCV members.   We'll drive into Melbourne from Traralgon, and head to the MBCV club rooms at Ferntree Gully.   The focus of the day is electrical troubleshooting.   We'll start with a theoretical section on using a multimeter for voltage, amperage and resistance settings.
After that, our host will have prepared a couple of cars with specific faults for us to use our new skills to troubleshoot.    There should be most of our group and 10-15 MBCV members.
Dinner is being hosted by MBCV.   We'll have a private room in a local club.
Day 4 – MBCV Concours and drive to Leeton
The MBCV concours will be held at Wandin East reserve.    We'll spend the morning at the concours, and the MBCV have prepared a section for our cars to park.
Early in the afternoon, we'll head off and start our journey home.   We'll take Black Spur drive out of Melbourne, which is apparently one of the best driving roads in the area.   We'll head north to Leeton via Shepparton and Jerilderie.
Our stop for the night is the historic Hydro Hotel in Leeton.   Day 4 takes us 447km.
Day 5 – Leeton to Lithgow and home.
Our final day takes us inland towards home.   We'll head to Parkes via West Wyalong.   It should be possible to get a few photos of the cars with the dish behind them.
From there, we'll head to Mt Panorama via Orange.  We'll be able to do a slow speed lap around the track at Mt Panorama.    This is a normal road when there is no racing, although speed limits are very low and very aggressively enforced.
We'll head to Lithgow before the convoy breaks up and we go our separate ways.    Day 5 takes us 633km.