The Mercedes Club hold a mid-week drive pretty much every month.   I've been a member for more than 10 years but never managed to attend one.   I had a free day today and the drive looked really good.   This months MBCNSW mid-week drive was up to the Hunter valley.   The route was via the Putty road, which I've done a few times before.   Mid-week is a great time to do this route as the Putty road gets very busy with motorcycle groups on the weekend.   These also attract highway patrol.
Attendance was pretty good for a mid-week event.   I took my 450SLC.   The 450SLC is well suited to this route, but the choice wasn't really much of a choice, as only the 300SE and 450SLC are up to a longer drive at the moment.   The 250SE is not charging so would promptly run out of electricity.    The 560SEC is currently without a radiator or coolant hoses, and the 560SEL is having some minor panel damage repaired.    Exacerbating this situation is the long shipping times due to Covid19.
As well as my SLC, at the MBCNSW mid-week drive there were two other 107s – a 380SL (with a 5.0 engine) and a 350SL.   Sadly the 350SL failed to proceed early on.   It was belching out black smoke and the owner thought he might have a batch of bad fuel.  I sure hope it was only that!   There was also a 380SEC and a manual 190E, which are quite rare in Australia.    As well as the classics there were three moderns, a C Class, an E class and an SLK.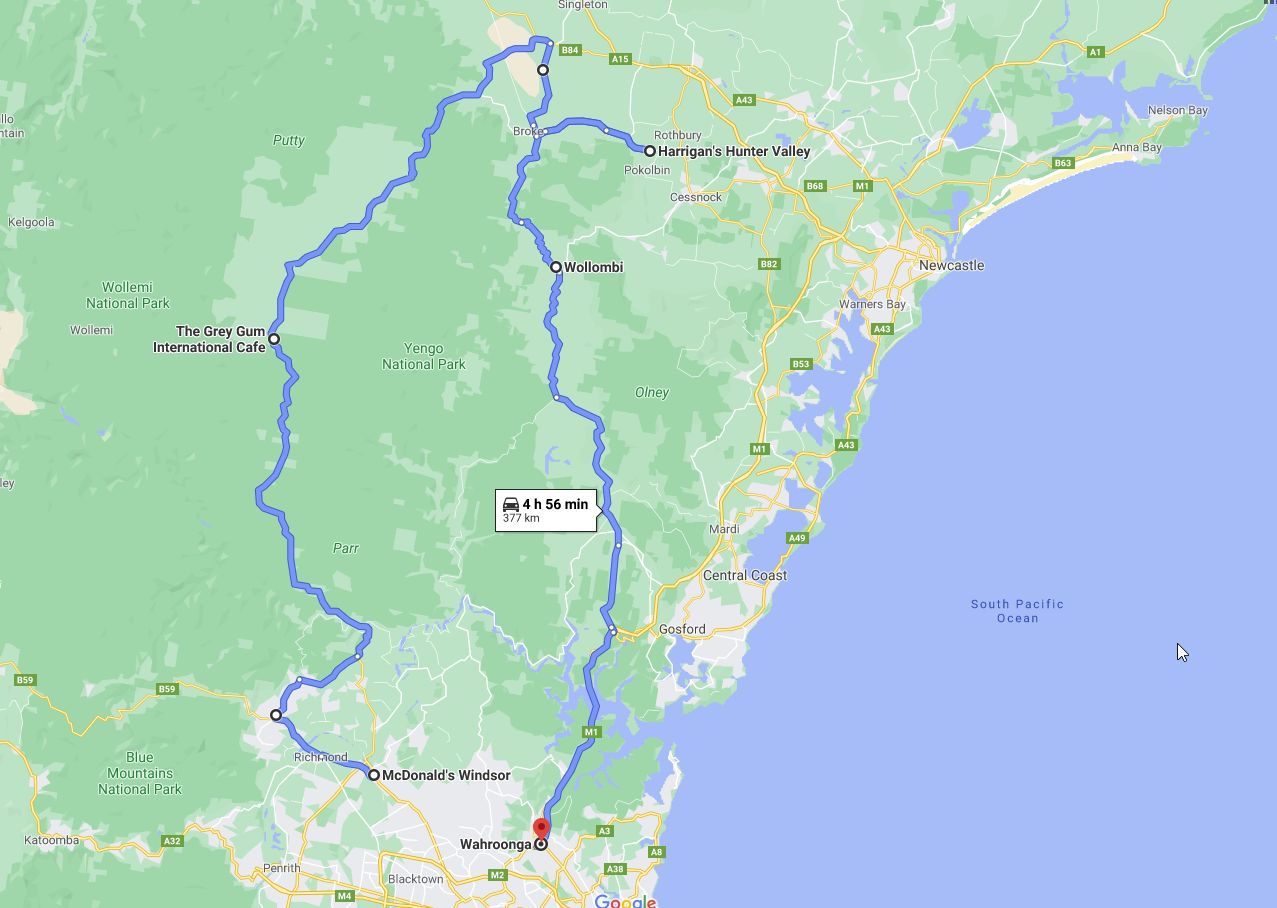 The route started out taking us west, towards Richmond.   From there we turned off at Comleroy road, and then at Blaxland ridge road.   These are both roads I am quite familiar with, using them to come back from the mountains and avoid the M4 or M2.   We then joined the Putty road, the original way to the Hunter.   The Putty road has some twisty sections and some long straights.   It is nice to drive it without bikes up your tail every few minutes.     We took the Putty road right up to the hunter and then turned for Broke.   There is a slightly faster way to go for Broke, but the road is not as good.
We had a rather nice lunch at Harrigans Irish Pub and then a few of us took a rather spirited drive back via Wollombi and Central Mangrove.    It was really good to get the SLC out and stretch its legs.   I suspect both my SLC and the 380SL 5.0 will need new fuel accumulators as they both struggled to start when warm.    I'll probably need to replace the transmission mount.   I have not yet inspected it, but from the vibrations I was feeling I am pretty confident it is collapsed.