The DS is now repaired and is in the process of preparation for paint.   Not only did work need to be done to fix the damage from the crash, but previous repairs had to be put right too.    The paint that was previously on the car was not well prepared.   The car was not rusty, but there was minor surface rust under the paint that was preventing it from looking that good.  There was also previous accident damage, as can be seen on the front wing.
I found a photo of the car with this damage when I purchased it funnily enough.   It was in the back of the glove box.   I had assumed they must have replaced that front wing but it looks like it was repaired.   The car has much better panel fit in that picture than when I purchased it.   This will be rectified during the repair.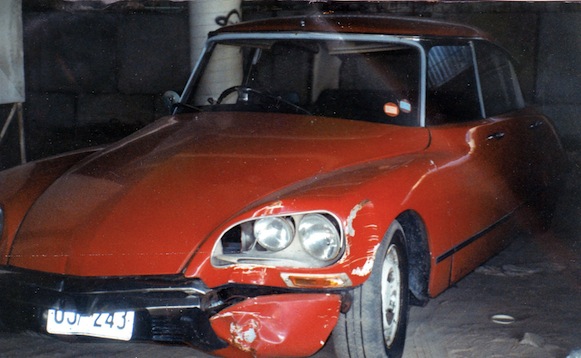 you can also see the valance looks like it had been repaired previously regardless of the crash.
The openings shown are for the air intake for the radiator and also for the inboard front brakes.    For this repair, I sourced most of the parts from Citroen Andre in Europe and the bonnet I found locally from Continental Cars, the Citroen dealership.   It was the last one, held by the owner for own personal car.    Both vendors went above and beyond to help me: Continental cars loaned me a van to transport the bonnet and Citroen Andre sourced all the parts new and used and packed them extremely well.   You can tell they are vendor of Citroen parts as they used Posidriv screws in the packing!