About the SEC
The 560SEC sat at the top of the Mercedes-Benz range in 1987.    In Australia, that equated to a dealer price of over $215,000 before taxes and other costs.   This was more than double the median house price in Sydney/Melbourne.    Consequently few were sold in Australia, although their exclusivity means survival rates are quite good.
The SEC was launched in 1982, ostensibly replacing the W107 SLC range.   In reality, the SLC is based on the SL and the SEC is based on the W126 S-Class.   It's more the spiritual successor of the W111 Coupe.   The original range consisted of the 380SEC and 500SEC.   Mercedes Benz Australia in their wisdom at the time decided to comply the 380SEC with local regulations and not the 500SEC.   This resulted in a large number of private imports from countries like Hong Kong, Singapore, UK and so on.
The W126 was face-lifted in 1986.   As part of the face lift, the 380SEC was replaced by the 420SEC, the 500SEC was improved and the new range topper, the 560SEC was added.    Australian delivery models were subject to local regulations, which meant detuned engines (both for Australia's poor fuel and pollution regulations).
The W126 SEC is generally regarded as one of Bruno Sacco's greatest creations.   It is a big comfortable cruiser for four people and is extremely elegant for such a large car.    It was packed with the latest technology of the day including options for airbags, ABS brakes, traction control, heated seats and so on.
About this car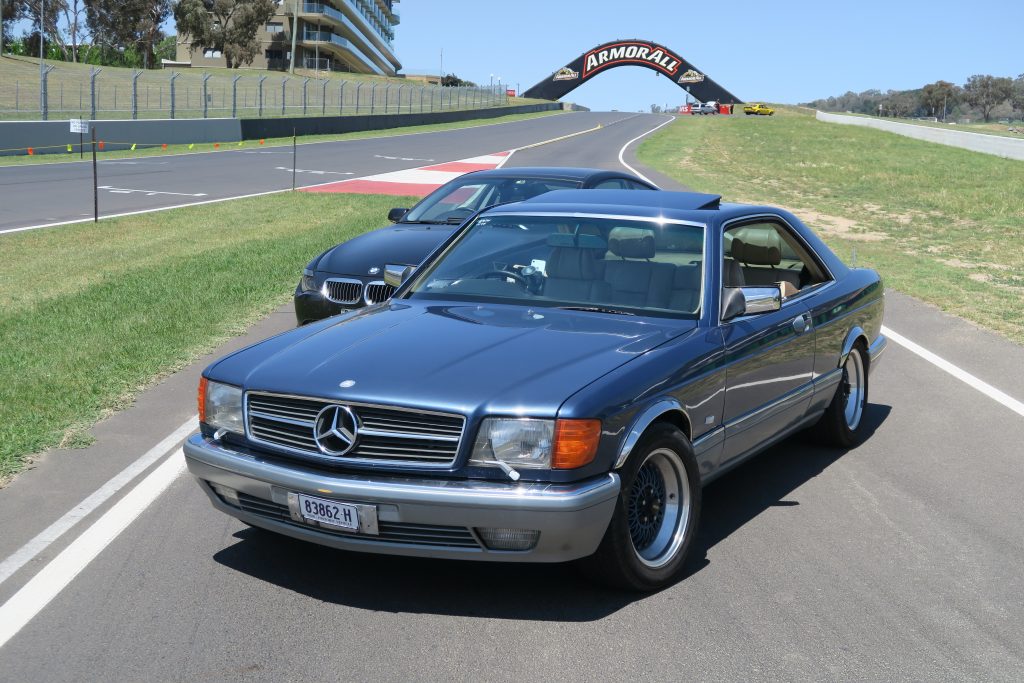 This car is a 1987 Mercedes 560SEC.   It was sold new in the United Kingdom.   This means it has the 220KW engine, vs the 182KW version offered in Australia.   This is shown up as option 822 below.  Option 822 included 10:1 compression, different cams, exhaust system and a tune for higher octane petrol.
Apparently this car has had only two owners since new.    It was imported from the UK into Queensland in 2005.   While in the UK it wore the registration B1 SWS, which I guess was a personalized plate.   Later in Queensland it was registered under 737 VHB.   The last owner was in Esk, Qld.   Esk is in the outskirts of Brisbane.
As you would expect with a car sold in a cold climate, it is equipped with heated seats.   The heated seats work well.   The car also has orthopeadic seats.   These are for people with a bad back and allow fine control seat comfort via a series of air bladders in the seat back.   This feature is still fitted but no longer works.  I presume there is a leak in the air bladders or lines, as they controls no longer work.
| Option Code | Meaning |
| --- | --- |
| 238 | City Drive light for Great Britain |
| 251 | Becker Radio Mexico Cassette, Full Stereo, Electronic |
| 286 | Luggage Nets on Driver Rests L & R |
| 341 | Additional Blinker Lamps |
| 362 | RHD Vehicles as per EC Regulations |
| 406 | Single Seat with Orthapedic front seat backrest, Left and Right |
| 430 | Headrest in the Rear, Left and Right |
| 461 | Instruments with miles indicated and English legend |
| 524 | Paintwork Preservation |
| 581 | Automatic Climate Control |
| 601 | Oil for rear axle with limited slip |
| 613 | Headlamp Left-Hand Traffic |
| 822 | Output Increase for 560SEL/SEC |
| 873 | Heated Seats for Left and Right Front Seats |
I've now owned three of these cars over the years, the most of any Mercedes Benz Models.   This includes this one, a 1987 Mercedes 560SEC as well as 1988 and 1989 models.   The 1989 model was quite rough but the 1988 was a lovely car.
What's Next?
Over time, as well as maintenance on this car I would like to do a few upgrades:
Fix the rust under the rear window
Try some A/C upgrades such as an uprated condenser.
Replace the arm rest leather
Remove aftermarket chrome wheel arch trim.   Sadly this has been glued on so it could only be removed with bodywork to fix the paint underneath.
Related Posts: