About the 1979 Mercedes 280SE
The 280SE is an S-Class of the W116 range (1972-1980).   The W116 was the first car referred to the S-Class by Mercedes-Benz, although previous models like the W108 still filled that spot in the line up.   The 280SE is a short wheelbase model equipped with the M110 dual overhead cam inline six engine.  The M110 is probably the toughest petrol engine ever produced by Mercedes-Benz.
The 1979 Mercedes 280SE was the entry level S-Class offered in Australia.   The 280S having been dropped from the line up for the 1976 model year after the ADR27A emissions restrictions came in.   As well as the 280SE, buyers could also opt for the 280SEL, 450SE and SEL and the 450SEL 6.9.    For more details about the W116 in Australia, please see this article.
About this car
This 280SE was sold new to the Greek Consulate in Sydney.   It went through two owners in Sydney, before moving to a long term owner in Melbourne, where it would remain until around the year 2000.   I have extensive service history for that part of the car's life.   Being a late production car, and purchased (tax free) by a consulate, it has many options installed.   The late (from the 1978 model year) cars had the velour style carpets and standard dash wood.
Being an Australian delivery car it has an MB-Tex interior, self-leveling rear suspension, power windows, tachometer and air conditioning.     The Australian delivered cars were subject to the misguided ADR27A emissions restrictions.   These ended up exchanging one type of emission for another, increasing fuel consumption and hence CO2.     Under this regime, the cars were restricted to 112kW & 206Nm and a top speed of around 185km/h.   Despite the heft of the W116, the performance is still pretty good around town, thanks to the 3.69 diff ratio.
I owned this car for about 18 months from 2021 to 2023.  I originally wanted a W116 when I purchased my 300SE.   Owning 3 W126 cars seemed a bit excessive, so why not replace one with a W116?   I'm currently on the search for a specific car, and even have a line on one that may be ready for sale later this year.   At the time, this car was the closest one I could find.   It had an almost perfect body and interior, but needed a few mechanical issues, some of which I could tackle myself.   Even in Australia, finding a rust-free W116 is not easy.
Since I have sold the car, I've kept in contact with the new owner.    He has continued what I started in improving this already very nice W116.    Since he purchased the car he has:
Replaced the front windscreen seal
Replaced the windscreen washer pump
New thermostat and thermostat housing
Aircon repaired (cost $1800)
New tyres and new front shocks.
He was also pleased to report that while it was sitting at the workshop for a week, it didn't drip any oil.
I'm really happy that the car has gone to an owner who appreciates its originality.    He's been taking the car on longer trips and its been going really well.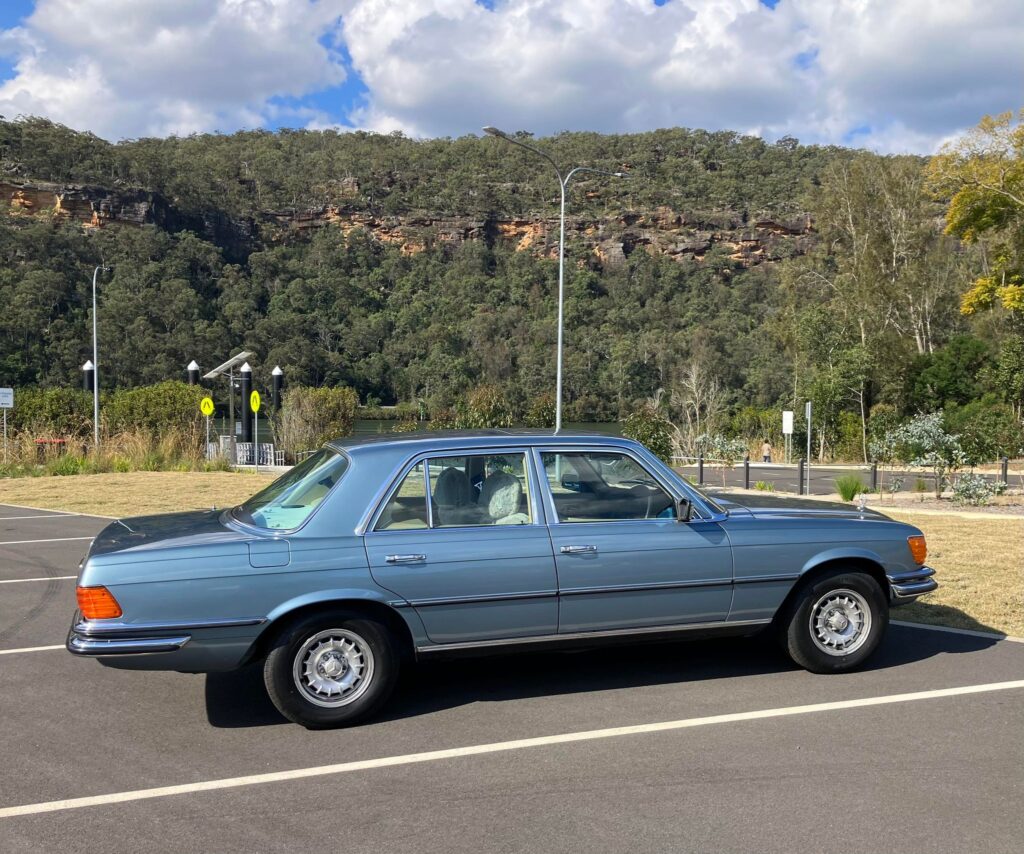 Option codes
Option Code
Meaning
410
Electric sliding roof
420
Automatic Transmission, Floor Shift
440
Tempomat (Cruise control)
451
Tachometer
466
Central locking
503
Outside rear view mirror, on the left
586
Behr A/C and F/R power windows
524
Paintcoat preservation
533
Interference Suppression without radio
570
Folding armrest, front
586
Behr A/C and F/R power windows
599
Heat insulating glass for side and rear
613
Lamp unit for LH traffic
625
Version for Australia
656
Michelin Tyres
668
662: 10l of fuel
666: Packing VE II
677
Tropical battery
818
Emissions Test?
Related posts