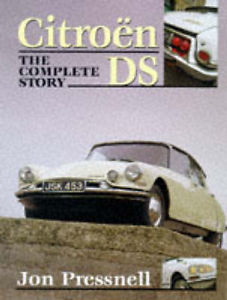 The Citroen DS, being such an iconic car, has inspired a plethora of books on it's design, history, restoration, models etc.   The one that is the most recommended is 'The Original Citroen DS – The restorers guide" by John Reynolds, mostly because of it's excellent set of pictures; but this book is currently out of print and quite expensive.   (You can get it for around AUD$100 on UK or USA ebay if you wait long enough).      That leaves room for some alternatives, and this book by Jon Pressnell fits the bill quite well.   It has a better coverage of the history of the car, including biographies of the men who were behind it, and goes into quite a lot of detail around the cars development and some of the teething problems encountered by Citroen in introducing such a radical design.   I found the book to be well written and I enjoyed reading those sections – unlike some books of this kind that can be a bit dry, or just rehash well covered old ground (like every Mercedes book that feels the need to cover the Patent Motor Wagon)
It does a good job of explaining the changes over the years (in this aspect, probably not as good as the Reynolds book), and an especially good job of covering the models for various countries – the UK in particular, but also the Australian made cars among others.     The Appendix sections are probably not quite as detailed as the Reynolds book, but some of the background sections around the hydraulics are better written.
Overall, I would recommend this book.   You can get it for less than $35, and some of the detail it is missing is available on Le Nuancier DS (A French website) which has even more photos of the various details of the DS year by year as well as the colour charts etc that are made available in the Reynolds book.
In summary, this book is better for the story and history behind the DS, and where it is a bit lacking, there is an excellent web resource to fill this gap.    It is also a good buy for the person who is contemplating a DS, to explain the innovation contained int he car, and help decide which of the numerous models is right for that buyer.   This is one of the books I refer to regularly in my library.