In Australia, each state (and territory) has their own Mercedes-Benz Club.   Most countries have a central club with regional chapters.   This isn't really all that surprising given the states could not even agree on basic stuff like a common railway gauge.   Every two years one of the clubs hold a "National Rally" event on a rotating basis.  The idea is members from all the national clubs get together at one of these events.   The 2022 event is being organized by the South Australian club and held in a suburb of Adelaide.
This event was interesting to me because not only have I never been to one of these events, I have never been to Adelaide either.    A ground of friends from the club had the same idea, and we figured not only would we go to the event, but make a really interesting road trip out of it.   We would get to participate in the event, see Adelaide and see some other parts of the country we have never seen before.
On the way there, we decided to hug the coast, all the way to Adelaide.  This would also allow us to do the Great Ocean Road, something I have always wanted to do.   For the return journey, we decided to take the route via Broken Hill and far western NSW.   The total route was about 3900km, not including any minor detours or driving at the National Rally venue.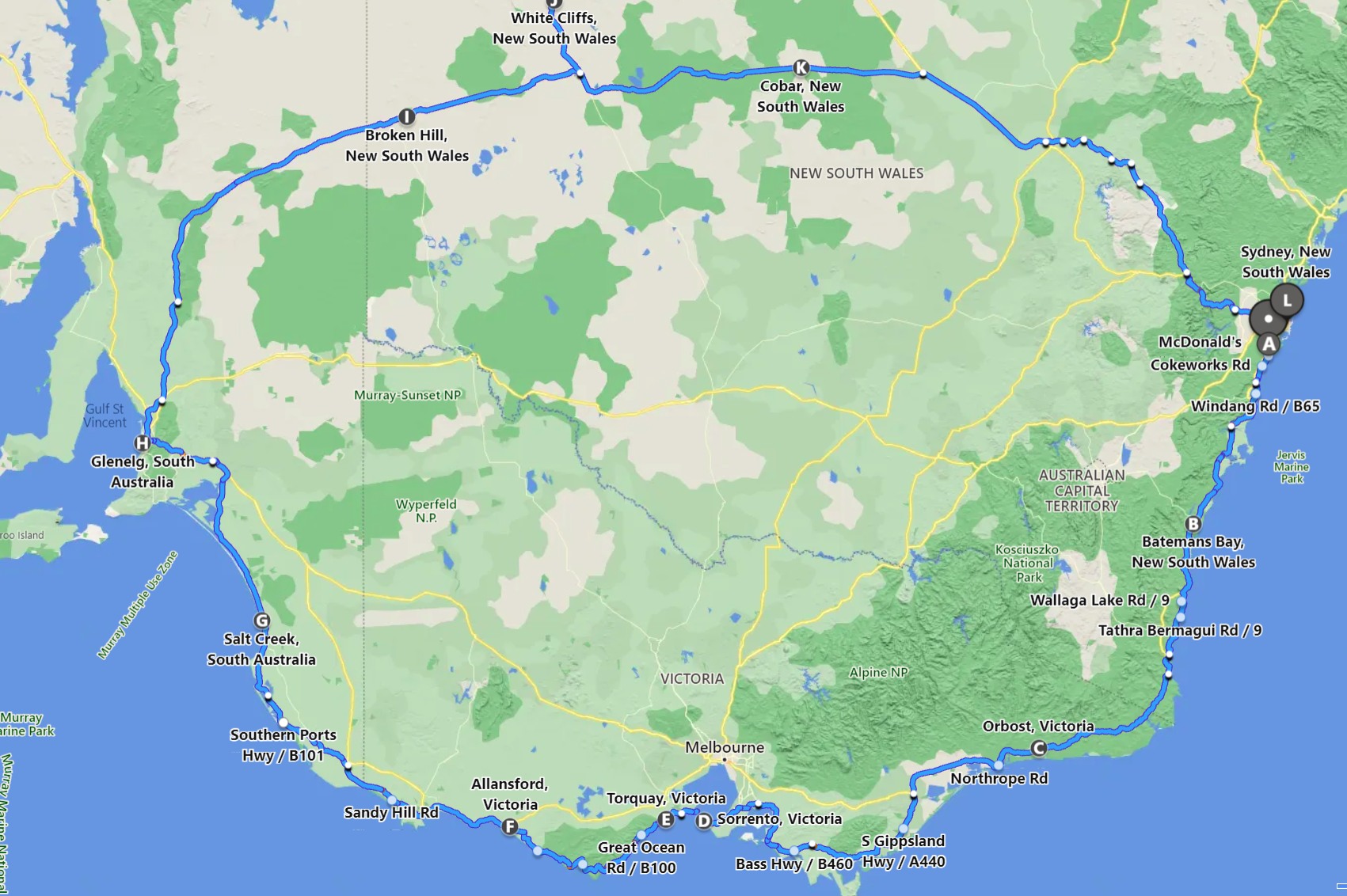 Participating on our journey will be four cars.   We originally had five, but one of our group had to withdraw due to work commitments.     My 1977 450SLC will be the oldest (and the thirstiest).    On the trip we'll also have two W123 280CE models (a 1978 and a 1981 model) and a 1983 380SEC.    My SLC is almost at 306,000, so I will likely roll over 310,000 not far from home at the end.   This will take me close to 50,000km on the car since I became its custodian.   I've recently been preparing the car for the trip and making sure I have a few essential spares.
In planning our route, we have tried to avoid driving at night.  I don't want a repeat of the Kangaroo incident of last year!  In addition to our group, there is a larger contingent from the MBCNSW taking the more direct route to the event.
Day 1:  Sydney to Orbost
The first day will take us down the coast of NSW, starting with the Royal National Park, then through Kiama,  Nowra, Batemans Bay, Eden and then into Victoria.   I've never driven further south than Jervis Bay.   Once we cross the Victorian border, there are few towns until we get to our stop for the night in Orbost.    We'll cover about 630km over about eight and a half hours of driving.   I expect the driving will be quite scenic with the route we have chosen.
Day 2: Orbost to Torquay
The second day will be our easiest day of driving, with only about 530km to cover.   On this day, we hug the coast again until we get to the Mornington Peninsula, where we take the car ferry from Sorrento to Queenscliff.   I've never been to any part of this days route, and we will pass through coastal towns such as Port Albert.    We end our day in Torquay so we can do the Great Ocean road on day three.
Day 3: Torquay to Glenelg
The third day will be a more intense day of driving with a bit under 900km of driving.   We at sunrise with the Great Ocean road.   I've always wanted to do the Great Ocean Road, and doing it on a Friday in April should hopefully mean its not as busy as it gets during tourist season.   The Great Ocean road is well know outside Australia with sights such as the 12 apostles along the way.   Once we have done the Great Ocean road, we need to make good time to get to the National Rally.   There is a Welcome event in the evening that we would ideally arrive in time to attend.   Between the Great Ocean Road and Adelaide, we will hug the South Australian coast.
Day 4: National Rally Day 1
The first day of the National Rally includes a show and shine in the morning, a free afternoon and an evening experience.   The show and shine should be a great opportunity to see all the cars from South Australia and the other states I don't normally get to see.   South Australia may also be feasible for intrepid owners from WA to make the trio across the Nullabor.   I'll have to keep an eye out.
Day 5: National Rally Day 2
The second day of the National Rally starts with a morning drive, a catered lunch and then a farewell dinner in the evening.    I wonder if the official drive will be as picturesque as our route to the event?
Day 6: Glenelg to White Cliffs
Day six will take us through some remote areas of Australia.   We'll leave Adelaide to the North via the Barrier Highway and head towards Broken Hill.   Once we get out on the open road we are really in the Australian outback and there are very few towns until we reach Broken Hill.   This day will take us around 815km, although with few towns average speeds will be higher.   I've always wanted to travel through real outback Australia, and this trip will give us a very small taste of it.    We'll finish the day at the White Cliffs Underground motel.   Temperatures in White Cliffs are high all year round, so many residents live underground.   This keeps everything at a livable 22c.    I've always wanted to stay at one of the underground motels.
Day 7:  White Cliffs to Sydney
The final day has the largest distance to cover.   We'll start in the outback and travel through towns like Cobar and Nyngan.   From there we'll see the countryside getting greener and the population density grow as we pass near Dubbo, go through Mudgee and start getting closer to Sydney.   We'll split up at Lithgow, as some of us will return home via Bells Line of Road and others via the Great Western Highway.   Mudgee is as far as I have gone in this direction, so a lot of this route will be new to me.